This week's celebrity fashion edition is on The Vampire Diaries star, Nina Dobrev!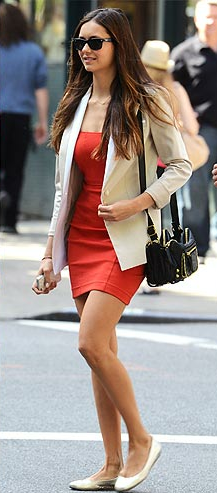 How to copy this look for all under $100!:
Blazer: Single Button Boyfriend Blazer for $22.80 at
Forever21
Dress: ASOS Sexy Strapless Dress for $13.26 at
ASOS
Handbag: Nine West Mini Crossbody Bag for $20 at
DSW
Total Price: $84.06!
I adore Nina's look. It's a casual yet chic outfit. This would be perfect for the office. It's also easy to transfer into the evening. Just switch into a pair of heels and take of the jacket! Easy as pie. You could even wear this outfit out shopping and doing errands. You will look put together and gorgeous!
What do you think of Nina's look?