Everyone dreams of the day they get married. When they first get engaged they go in a wedding frenzy. According to David's Bridal, the first 72 hours a bride gets engaged she is in the store. It is important to know what to do if you are to plan it all yourself. Also, it's totally possible!


If you didn't know already, I am getting married in just under a month and I am proud to say that I have done all the planning without any help. I do have to say that we are having a very small wedding (18 guests including attendants) and that helped tremendously but you can still do everything yourself! It also will save you tons of money.


My biggest tip: On the days you have off designate a time to do your wedding planning and nothing else (much like studying or doing homework). There is no excuse for, "I don't have time!"


Ok, you got the ring. Take a week to take it in and start thinking about your ideal wedding.
- Do you want a big or small wedding?
- What colors are you envisioning?
- What kind of theme or style do you want?
These are some of the big questions you want to answer when you start planning. Once you have an ideal vision and a date of course you can really start the planning.
First and foremost, the most important thing you want to create is your budget!
Something my florist told me, we all look at those floral pictures and say, "I want that!". However, typically the flowers in the photo, cost 100's if not more. So stay within in reason, and compromise.
For Example, Gorgeous but probably 100's of dollars:
If you are planning a wedding to be taken place in another city or town, the internet will be your best friend.
The first couple months you will want to:
- Research ceremony locations and book your most favorite one.
- Research reception locations and book it - Tip: If you are trying to save money, have your reception held at a restaurant. It saves a lot of money in the long run as you don't have to rent chairs, tables, linens and dishes, which will rack up the price even more.
- Book your florist.
- Find an officiant to marry you.
- DJ. Tip: I only hired a violinist for the ceremony and for the reception I will save money by playing music out of a stereo/iPod. If you have a small reception you won't need those huge DJ speakers anyways.
Oh, the wedding dress dilemma...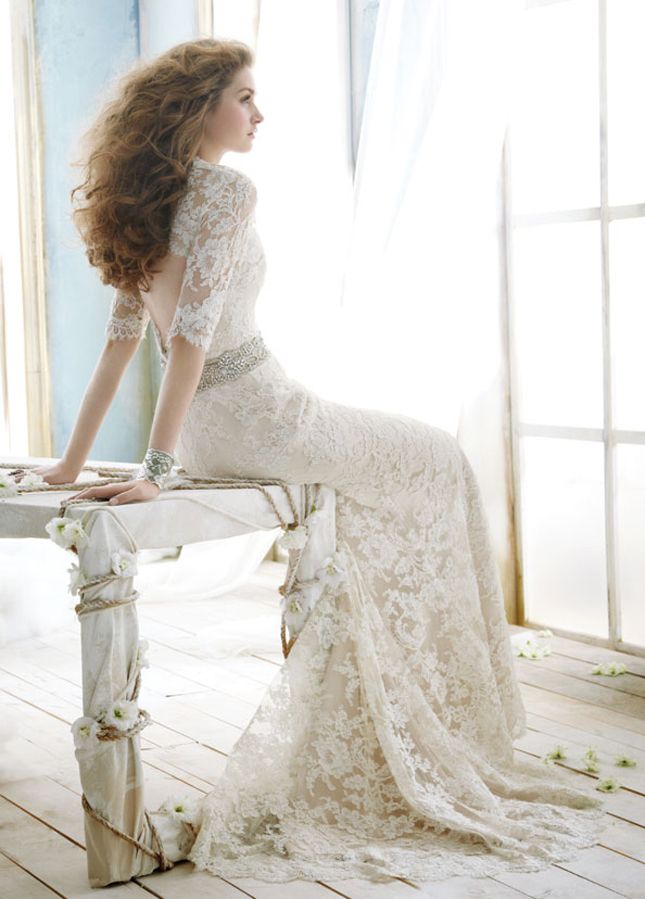 Answer these questions:
- What style?
- Traditional or non-traditional?
- Veil?
- And what kind of shoes and accessories?
When you walk down the aisle, do you really think they are going to notice the label/designer or the price of your dress? They are staring at you! Look for that dress that speaks "you" and within your budget.
I never understood how one could spend 14 grand on a dress, haha.
Ok, you got the big stuff booked. Within the next couple months, plan/book:
- Your hair and makeup for the day and for your bridal attendants
- Manicure and Pedicure
- Look for and purchase bridesmaid dresses and tux for your fiancee and his attendants. Tip: Renting tuxes can save a lot of money! Look for sales on bridesmaid dresses!
- Cake. Tip: To save money look for local bakeries that will do it for a reasonable price. I didn't have a very good experience with Publix (they never answered my calls and were quite rude)- just a tip. ;)
- Limo- we went with a luxury sedan and this saved us 100's of dollars!
- Get your marriage license.
- Purchase your fiancee's wedding band if he has not already.
- Honeymoon- Be reasonable, what can you really afford?
I know Italy is gorgeous and probably my dream honeymoon but if you can't afford it, don't force yourself to go in debt. I think it's a bad start to the marriage personally. Besides, you have all of the marriage ahead of you to see Italy! And by that time you have saved up for it and you won't feel guilty. ;)
Last couple of months order all your favors, reception decorations and all the little extra stuff. I went to Etsy and ordered them just recently and got them within reasonable time. :)
Well, that is the big information I wanted to include. I could go on and on, but I don't want to bore you all! (haha). After the day of your wedding, relax, you are on your honeymoon now. ;)
Will your plan your own wedding or if you are already married did you have help?