As you all know not only am I into fashion, I am also into fitness. I may not be as super fit as a fitness trainer but I do strive to be healthy. I take classes at the gym and lately I have noticed the number of people have dwindled down. Winter weather can really sap your motivation for that morning jog or late evening gym session. However, even if the jumpers and coats are coming out, you shouldn't miss out on your fitness regime. There are so many simple ways to keep yourself in shape, so keep these tips in mind!
I am all for eating 5-6 times a day but those should be small portioned meals. As the Guardian recently reported, boredom can drive many to consume more calories than needed, leaving the body to convert them into fat. Try to resist the urge to snack when idle. Especially when watching TV!
If you are hungry and need a quick fix, try to keep it healthy. Nuts with no added salt are a great source of protein, and will keep you feeling full for longer. Apples or grapes are great too! Apples are especially filling.
Now don't deprive yourself and ignore your body's need. Dark chocolate should hit that spot when you need that extra sugar kick. It's also known to be good for you as it has high antioxidant levels.
Many think water is not necessary in the winter as it is in the summer. So not true!
H2O is the best and simplest way to keep your skin looking radiant and healthy. You should aim to drink eight glasses of water a day, and especially as the weather gets colder and the central heating comes on, it's important to hit that target in order to keep your skin from drying out.
What helps me drink water is Crystal Light drink mix. Also drinking out of a fun water bottle helps! Drinking plenty of water will also keep you feeling full for longer, means you'll consume fewer calories, and keep your waist nice and trim.
Walk to work, run to the bus stop, keep those feet moving, wear comfortable shoes, whatever you can do to keep moving! If you don't have any tennis or comfy shoes, buy Skechers shape ups or something similar to encourage you to stay on the go. I own them and I have to say they are the most comfortable tennis shoes I have owned! If you can't face an early morning jog, stick some tunes on your iPod, get off the bus early and walk the rest of the way to work.
All in all, keeping active despite the temptation to stick to the great Indoors is often a challenge, but adopting small changes in your daily routine, combined with a healthy, active diet, should ensure that you can still fit into that LBD for the Christmas party!.
So the next time you want to look like this: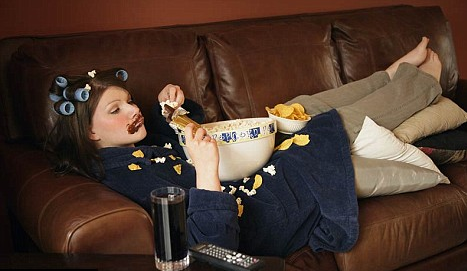 Think about doing this- working out and staying healthy!:
Do you have a workout routine during the holiday?