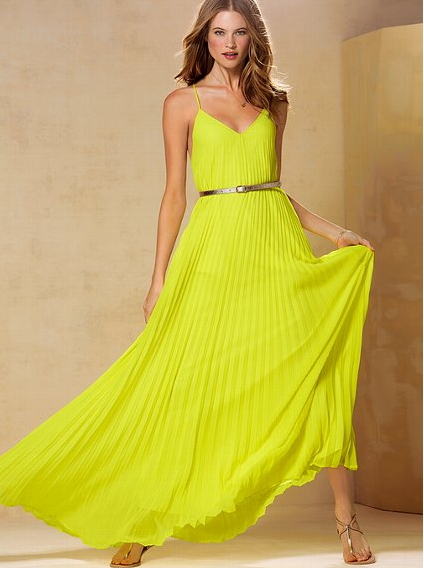 Knife Pleat Maxi Dress for $128
This dress would look amazing on someone with a tan. The dress also comes in colors: nude, coral and black.
Colorblock V-Neck Dress for $88
Pastels are perfect for spring. Wear this on Easter dinner or to a garden party. This dress would look amazing on boyish figures due to it's figure enhancing pleats.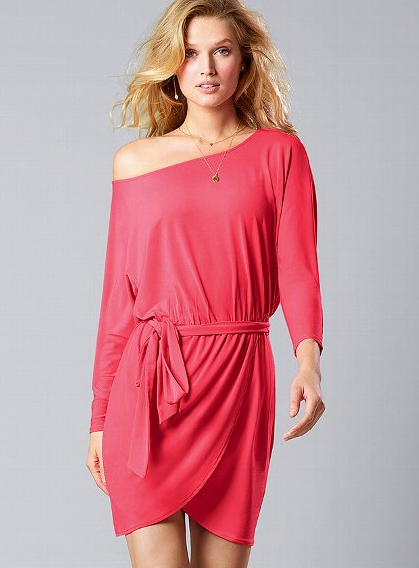 Print Dolman Sleeve Dress for $80
A sexy dress for a night out on town. Has a tie at the waist to help create a hourglass with the slouchy neckline/arms. It also comes in a zebra print, black, purple and white. Gorgeous dress!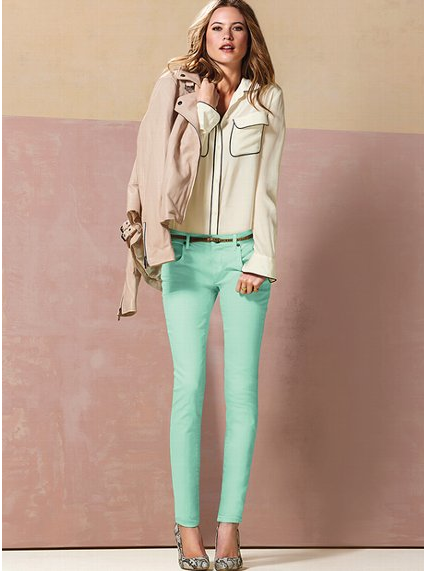 VS Siren Mid Rise Skinny Jeans for $70 and Silk Button Down Shirt for $88
I am tempted to try out one of these skinny jeans. I love colored jeans but I am always on the hunt for more of a mid-rise than those low-rise ones which most stores carry. These jeans also come in pale yellow, pink, bright red, and pastel purple.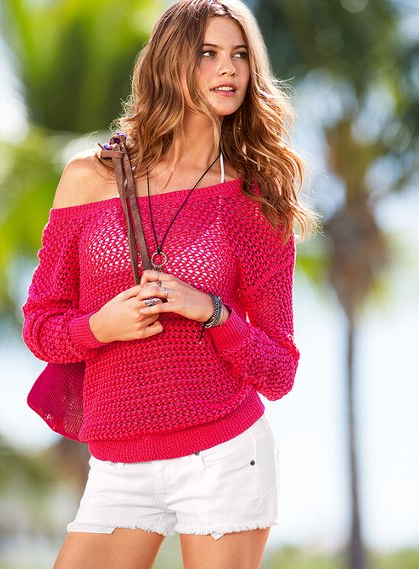 Marled Draped Open Back Sweater for $60
This sweater would be perfect to wear over a bikini with shorts like above. Perfect beach wear! Love the color too, so bright!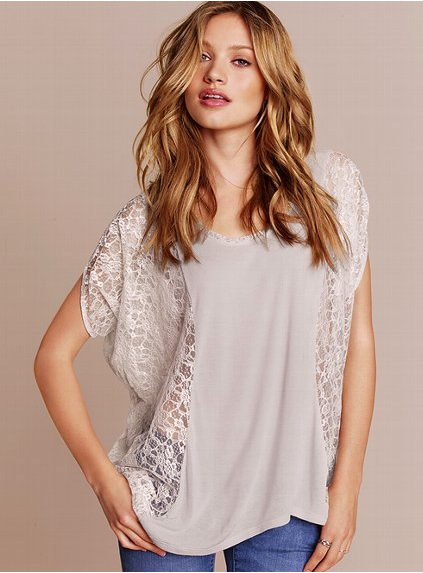 Lace Panel Top for $55
The perfect everyday top to wear with shorts, skinny jeans, leggings or whatever. I adore the lace paneling on the side. Feminine with a relaxed vibe.
Pleated Short for $50 and Silk Shirt for $68
Black and white will always be chic and sophisticated. Wear this on the weekend when you still want to look put together. These shorts would look darling on a boyish figure too- will help create curves!
VS Collection Mid Heeled Sandal for $78
These are the perfect sandal to wear with shorts, skirts and dresses this upcoming spring and summer. With it's moderate heel height you should have no problem wearing them all day while shopping, lunch with girlfriends or what have you.
VS Collection Monogram Loafer for $88 (Sequined ones are $128)
I have my eye out for these. Victoria's Secret recently came out with their own shoe line. And you all know I am a huge fan of them so I definitely want to get a pair of these with their logo on them. Aren't the sequined one's gorgeous? I have my eye out for the pink ones!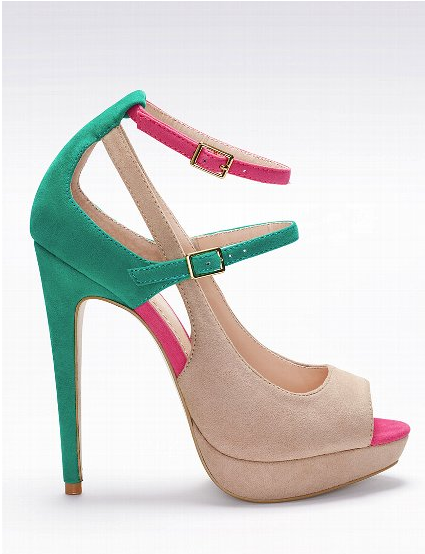 VS Collection Mary Jane Platform Pump for $98
Another new shoe from their collection. I love the mix of teal, pink and nude. Would look amazing with a white or black dress!
Towards the end of the year Victoria's Secret comes out with their spring preview (about the same time as their Semi-Annual sale). Since I love fashion, I love seeing what stores are coming out with for the new season. You can get an idea of what trends are booming and what customers are craving. Here in Florida, it's nice to snag up these fashions early because by March it's already warm enough to wear them! This is just their preview however, and will be coming out with even more gorgeous garments next year. I think February is when they debut them. I do know they already have quite a few swimwear pieces, which I have a few in my wish list!
If you have seen my previous posts on their clothing and have wanted a thing or two they are now hosting their Semi-Annual sale online! A great way to stock up on lingerie, and some gorgeous fashions!
Look forward to the Swimwear Spring preview for Victoria's Secret as well soon!
What do you think of the Victoria's Secret Spring preview line?