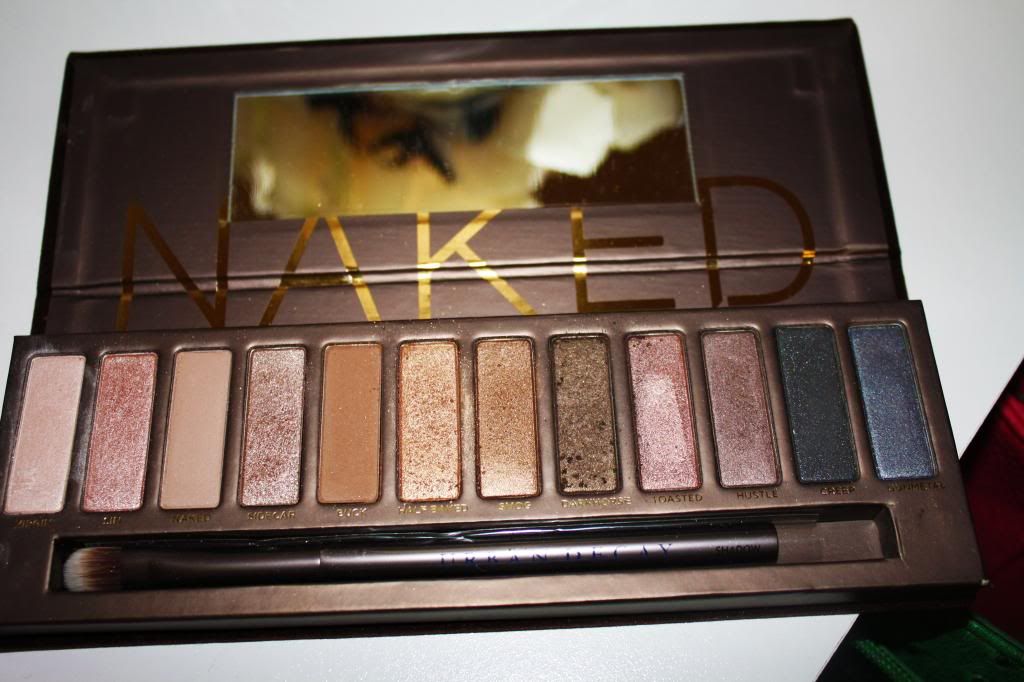 Urban Decay Naked Palette - $50 (From urbandecay.com, Sephora, Ulta)
I am quite late on the Naked Palette train but I recently purchased the palette last weekend. It is worth every cent! I absolutely love it. If you wear a lot of neutral eyeshadows, you must get this! I have been using this palette about every day this week. The shadows are very pigmented and last all day with their primer. Some of them are quite shimmery however, so if you don't like that finish you might want to swatch them first to see if that would be ok for you.
I now want to get the second naked palette!
Laura Geller Baked Blush in Malibu- $26 (from Ulta)
As far as blushes go, I go for more coral and light pink colored blushes. When I saw this in the store I couldn't walk past it. I loved the color and when I swatched it in the store it looked even more beautiful on the skin. This is a highly pigmented blush and with it being a hot pink color you don't need a lot. Therefore, this blush will last a long time! Well worth the money.
This blush also brightens up my cheeks and lasts all day.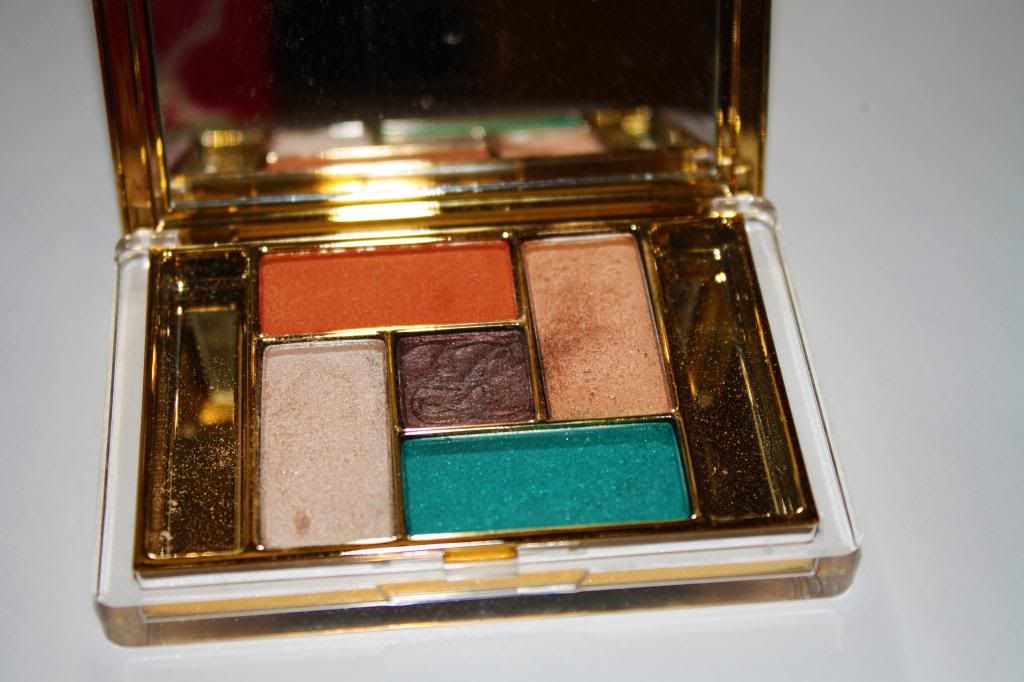 Estee Lauder - Bronze Goddess 2013 Eyeshadow Palette- $48 (Esteelauder.com, Estee Lauder Counters)
I love Estee Lauder products. I discovered the brand back during my first year of college. Their products have excellent quality and are well worth the price.
I saw this advertised on many blogs and websites well before it launched. I was so excited to see it in store. I went to the Estee Lauder counter and I feel in love with it immediately. This is such a gorgeous palette. This is perfect for summer. I have been using every color shown here. I love the middle dark brown with the upper right medium bronze color for a gorgeous nude eye look. I have also gone a little bold with swiping the teal blue color across my lids with the dark brown in the crease. Beautiful!
Benefit They're Real Mascara- $25 (From- Sephora, Ulta)
I haven't tried a higher end mascara in a long time and I while at Ulta, I though what the heck I will try this one out. It's much cheaper than some of the other brands I must say. I was highly impressed with this mascara. It separates the lashes while building volume and length. I have very straight but long lashes. This mascara helps define them and boost them up. It also lasts ALL DAY. I mean from 6 AM to around 5 PM. It's still there too when I take my makeup off! Now that is an amazing mascara.
I will definitely be repurchasing!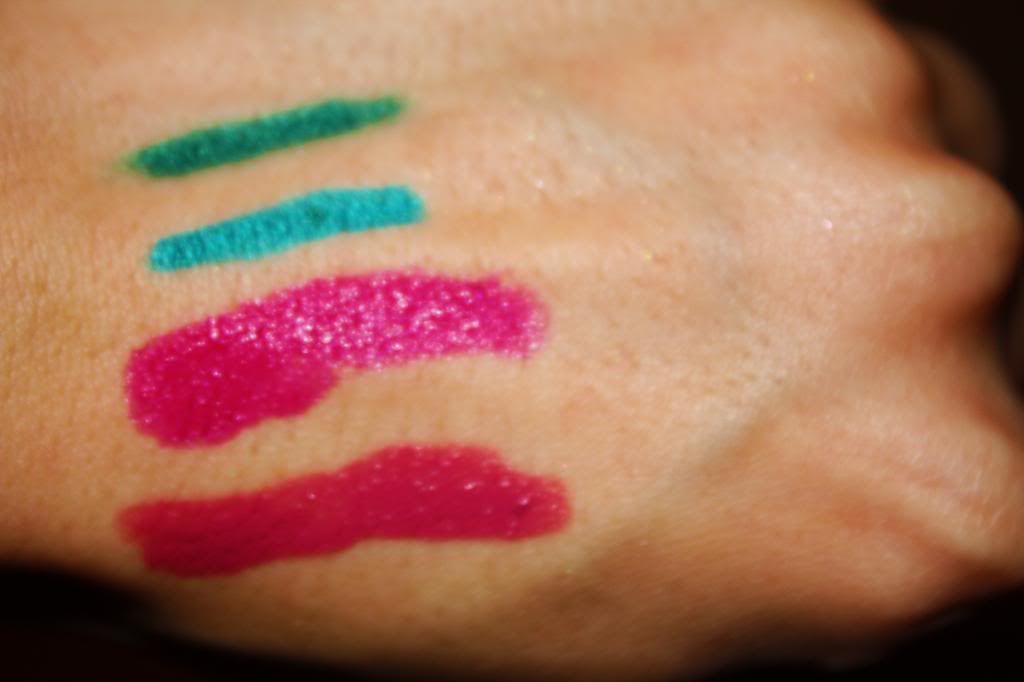 From Top To Bottom: Mac Eye Kohl in Minted ($16), Urban Decay in Deep End ($19), Estee Lauder in Fuchsia Fever ($25), And YSL Rouge Volupte #9- Caress Pink ($34). (YSL From- YSL counters, Sephora)
It's summer time everyone and it's time to bring out those bright lipsticks and try out that aqua eye look! I have never tried the aqua eye look before but it's so easy to achieve and it looks gorgeous on brown eyes! I do a very neutral eye, line the top with a deep brown liner, line the bottom with the aqua liner and then smudge to create a smoky eye.
The lipstick from Estee Lauder will look great on all skin tones. It's a gorgeous fuchsia color and brightens up my whole face. This lipstick also lasts a long time! Lasted me all morning. :)
This is my first YSL lipstick purchase and I have to say I am in love with the YSL lipsticks right now. I think I wore this lipstick 3 times this week. Which is odd for me as I try to do a different color/brand everyday (I am a lipstick junkie). This lipstick lasts ALL MORNING. I put it on at 7 AM and it lasts till lunch time at noon. There is even a stain on afterwards! It is worth every penny girls, it will last a long time! It's so creamy and smooth you don't even need chap stick. LOVE!
So there you have it, my current beauty favorites. I have been purchasing a lot of beauty products lately. Especially higher end products. I haven't probably purchased a drug store item in the past 2 months. I have to say you do get what you pay for, you get better quality and it lasts longer! :)
What are your current beauty favorites?