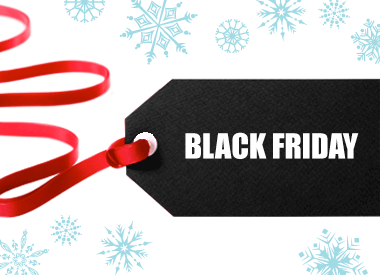 This Friday is the biggest shopping day of the year for retailers. It is Black Friday in the United States.
If you don't live in the US, it's basically a huge shopping day with MAJOR discounts. I mean getting things up to 80% off! With that comes huge crowds and lots of waiting in line. We also have Cyber Monday, which is the Monday after Thanksgiving. You can find the same kind of discounts online as in store more often than not.
So how do you fight those crowds and be in and out under a couple hours? It is tempting to go all out on Black Friday because of the discounts that you would never get any other time of the year. But with any shopping trip, stay focused!
Here are my biggest tips for shopping Black Friday:
#1:
Black Friday is good for electronics and games. Cyber Monday is good for deals on clothing, accessories, and shoes.
#2:
Make a List! And stick to it. Write down what everyone wants for Christmas. I know it's tempting to get something for yourself. However, if you have the budget for it, then go for it!
#3:
Download an app catered to Black Friday on your phone. I use the Black Friday app on the iPhone. It tells me what will be on sale from each store. The advertisements come out weeks early, so you have time to plan and decide what to get.
#4:
Start Early. Yes- go to bed early and set your alarm for 3 or 4 AM. Lines start forming that early, if not sooner (sometimes the day of Thanksgiving!) so if you are on the hunt for the newest iPad or some crazy good deal it's imperative that you get there early!
#5:
With that, many stores state, "50" HDTV LED for only $500!" Or some crazy deal like that. They only carry so many in the store. So if you are not the first, lets say 10 people to ask for it, it's gone. So make sure to get there early!
#6:
Many stores like Kohls, JcPenney, Macy's, and other department stores are doing pre Black Friday Sales online. So if you don't like crowds or lines, shop online! Kohl's is offering the same deals in their store online on Black Friday and so is Macy's.
#7:
Make sure to use
Ebates
to receive cash back on all your online purchases!
Ebates cash back and Sale Details:
Macy's -
6%. Many amazing deals on everything in the store. Some home appliances will be only $10! Cashmere sweaters will be $30 (originally $120).
Kohl's:-
6%. There are going to be many amazing deals on everything in the store. Check it all out online!
JcPenny:
6%. Right now you can get 15% off any order, 20% off $100 and free shipping no minimum. There is also an add online for their Black Friday in store.
Sephora:
8%. Sephora released their Black Friday special yesterday. There will be a series of products for only $10. For that list, go to their
pinterest
board.
Ulta:
8%. Free shipping at $25. I didn't see any really any other amazing deals for Black Friday.
Amazon:
8%. Sales started yesterday. Weekly and hourly sales on the hottest electronics, toys, and great gifts for the family.
Walmart:
3%. They are having amazing electronic and video game deals. Some video games will be low as $10 for the Xbox and PS3. The iPad mini will only be $299!!
Forver21:
2%. They are having daily deals on their clothing and accessories. Today it's $10 off boots and booties. If you are plus size, Ebates is offering $10 off one plus size item.
Express:
2.5%. Get $25 in express cash to use cyber monday through Dec. 12th when you spend $50. For Cyber Monday everything will be 40% off online and free shipping no minimum. There are many great sales online right now too from sweaters, buy one get one $30. Men's jeans are the same deal.
New York and Company:
2.5%.There will be amazing door buster deals. Cardigans and sweaters selling for only $15-20. Cold weather accessory gifts for only $5. Also if you are a card holder or frequent customer you should of already got a $10 off $50 purchase.
Eddie Bauer:
3%. For the sport or outdoor enthusiasts in your family, cyber monday started early. 30% everything online, 40% in stores.
PetSmart:
6%. They will have cat and dog toys for up to 50% off. If you are one of the first 100 customers you will get a free stocking full of over $100 of savings in coupons, treats, and more.
So there you have my tips and an inside to some of the hottest sales out there for Black Friday! Have fun shopping!
As an employee for Nordstrom Rack, we will be closed Thanksgiving. We open doors at 8 AM on Black Friday but will be holding no sales. Nordstrom will be having some great deals on designer items online. Though it has not been released of what will be on sale yet. :)
Will you be shopping this Black Friday?